Learn the Supply Chain Rule Book
Videocast Series: Operations Rules - Delivering Customer Value Through Flexible Operations
Part 2: Achieving Lower Cost and Reducing Risk through Supply Chain Flexibility - Here are the Rules!
Featuring David Simchi-Levi, Professor of Engineering Systems at MIT
Based on his new best selling book Operations Rules
If you registered for part 1, you are already registered for this event!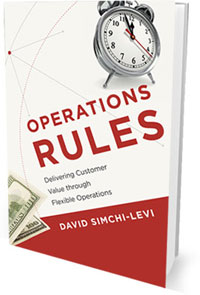 Most executives say that they want an organization flexible enough to adjust quickly to changing market conditions. So, if this is true, why then do so many companies fail to meet ever changing customer expectations?
Often face great financial loses when there is an even the slightest supply disruption? Or, they outright collapse when faced with operational problems? Unfortunately, for many corporate executives, flexibility is no more than another buzz word, at best used to provide an insight, not to make important business decisions. Those who do understand flexibility, however, have applied it as a powerful tool to gain competitive advantage, reduce cost, improve responsiveness and manage risk.
In this discussion, Professor Simchi-Levi of MIT will define flexibility, discuss specific and practical implementation methods and illustrate the impact through a number of case studies.

Join David Simchi-Levi, Professor of Engineering Systems at MIT, to learn more.

Benefits:
Provides understanding of operations strategy

The latest thinking in supply chain management

Actionable ideas, concepts, frameworks and case studies



All this and more in this outstanding videocast - you won't want to miss it.





Who Should Attend?

C-level professionals

Supply chain professionals
Procurement professionals

See www.operationsrules.com for more information on the book.
Part 1 of the series now availale on-demand!
In part 1, we explore the link between customer value proposition, product strategy, and supply chain strategy, especially how to make push, pull and push-pull decisions. Outstanding discussion.

---