Videocast Series: Operations Rules - Delivering Customer Value Through Flexible Operations


Implementable Strategies for Operations, Procurement & Supply Chain Management
Part 1: Matching Products, Markets & Strategies
Featuring David Simchi-Levi, Professor of Engineering Systems at MIT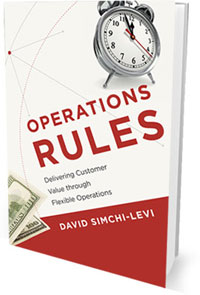 In recent years, management gurus have urged businesses to adopt such strategies as just-in-time, lean manufacturing, offshoring, and frequent deliveries to retail outlets. But today, these much-touted strategies may be risky. Global financial turmoil, rising labor costs in developing countries, and huge volatility in the price of oil and other commodities can disrupt a company's entire supply chain and threaten its ability to compete.

In Operations Rules, David Simchi-Levi identifies the crucial element in a company's success: the link between the value it provides its customers and its operations strategies. And he offers a set of scientifically and empirically based rules that management can follow to achieve a quantum leap in operations performance.
Simchi-Levi's rules—regarding such issues as channels, price, product characteristics, value-added service, procurement strategy, and information technology—transform operations and supply chain management from an undertaking based on gut feeling and anecdotes to a science. Case studies illustrating the various topics will also be presented.

Join David Simchi-Levi, Professor of Engineering Systems at MIT, to learn more.

Benefits:
Provides understanding of operations strategy

The latest thinking in supply chain management

Actionable ideas, concepts, frameworks and case studies



All this and more in this outstanding videocast - you won't want to miss it.





Who Should Attend?

C-level professionals

Supply chain professionals
Procurement professionals

See www.operationsrules.com for more information on the book.
---